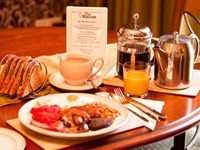 Good Morning - Knowe let's talk Breakfast
Here at The Knowe B&B we aim to serve a tasty Breakfast with plenty of choice, at a time to suit you. When you arrive we will ask that you kindly fill out our 'Breakfast Selector' Sheet, then pop it on the Hall table before 10pm, ready for the next morning.
"We are very proud to serve locally sourced or home-made breakfast produce wherever possible. Our meat products are supplied by JAMES PATERSON Butchers of Dalmellington and our free range eggs are supplied by GLENKENS EGGS of New Galloway.